Choose SE, Legme and Ziva brands to avail affordable & fashionable Leggings.

About Us
Leggings are mostly preferred by women of all age groups. These are not only comfortable but look trendy on any occasion. Whether it is an official gathering, a casual outing or any family function, leggings designed and manufactured by
S E Enterprise
will grab all the eyeballs.
Ladies Cotton Leggings Combo Set, Ladies Pink Leggings, Ladies Green Cotton Leggings, Ladies Plain Leggings
are few of the many options we present to our buyers. Not only for ladies, but we also offer Leggings for Girls in various colors and sizes.
Quality is above everything else for us. Selection of fabric is done carefully by our procurement agents to ensure our final product is flawless and in line with industry standards. Every piece, before leaving our factory, is minutely checked for stitching, finishing, cuts etc., thereby guaranteeing only a quality packed range to patrons.
What Makes Us A Credible Entity?
We started our journey in the year 2010 and over the years have only improved and made ourselves stronger. Overcoming market challenges, we have continued to sail and have been successful in creating a specific niche in the segment. Our long-standing reputation and worldwide recognition are attributed to not one factor but many, out of which a few are listed below:
Focus on Cost: We do not believe in looting customers for the sake of our profits. As we are dealing with independent traders and medium enterprises, we marginally price our Ladies Pink Leggings, Ladies Cotton Leggings Combo Set etc.
Focus on Delivery: We understand how crucial timely delivery of consignment to clients location is. Therefore, we make every effort to identify and connect with the leading logistics partners. They help us fulfilling our promise of timely deliveries nationwide.
Focus on Customer Satisfaction: No matter what our customer demands and in what quantity, we work painstakingly to get the jobs done as per their expectations. Besides, services we provide are second to none and widely appreciated.
Our Warehouse
We maintain a commodious warehousing facility to ensure an organized storage of goods. Packaging, loading and unloading operations are well managed by storekeepers thereby expediting the shipment process.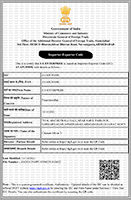 Get in touch with us